After almost completely dominating the market for smartphones with Android, Google wants to replicate this resounding success in the complex field of computers. In Spain, almost 9 out of 10 telephones bear the company's seal, while its bet Chrome OS as laptop operating system it barely exceeds 10%. Devices like the Acer Chromebook Spin 513 (from $400) that we analyze today come, precisely, to break that trend and with everything that has been established.
In front of you is Microsoft with its almighty Windows, whose data for 2020 -the latest available for a full year- show 80%, according to the consultancy IDC. While Apple has to settle for 7.5%. This technological cast forms a fierce competition for the entire ecosystem of Chromebooks that want star on the desks of millions of people Worldwide.
Its main assets are simple and straightforward yet durable devices, seasoned with an operating system that relies on Android applications to obtain a solid ecosystem. In addition, Google itself guarantees a series of security updates that guarantee maintenance in the long run.
Robust and pretty
The design section is one of the most cared for in the Acer Spin 513. The brand has opted for a metal chassis that gives it great resistance at the same time that it gives it a premium appearance in a device that in its most basic version stays below $450.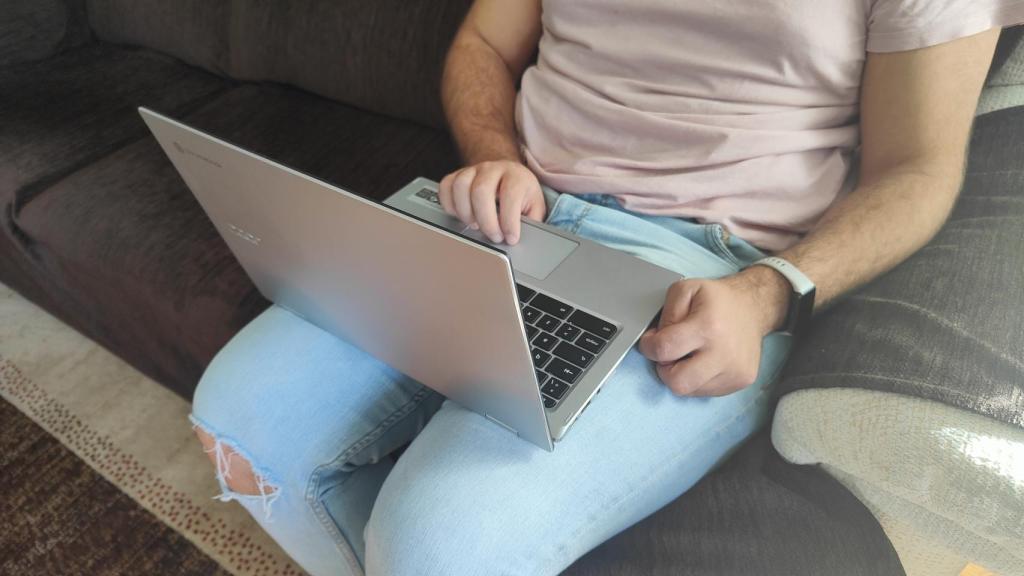 In this section it is also essential to mention that really it is a convertible with touch screen able to adapt to user needs. It has a traditional mode with the keyboard in front to write, another in which the screen moves forward to enjoy multimedia content and a last fully folded position that resembles a tablet.
The hinge system makes the transition between the different positions very smooth while holding the screen well and has not shown signs of weakness or slackness. This feature is one of the great advantages, as it allows you to enjoy 3 formats in one device and thus get more out of it. For example, while in bed and using it in tablet mode.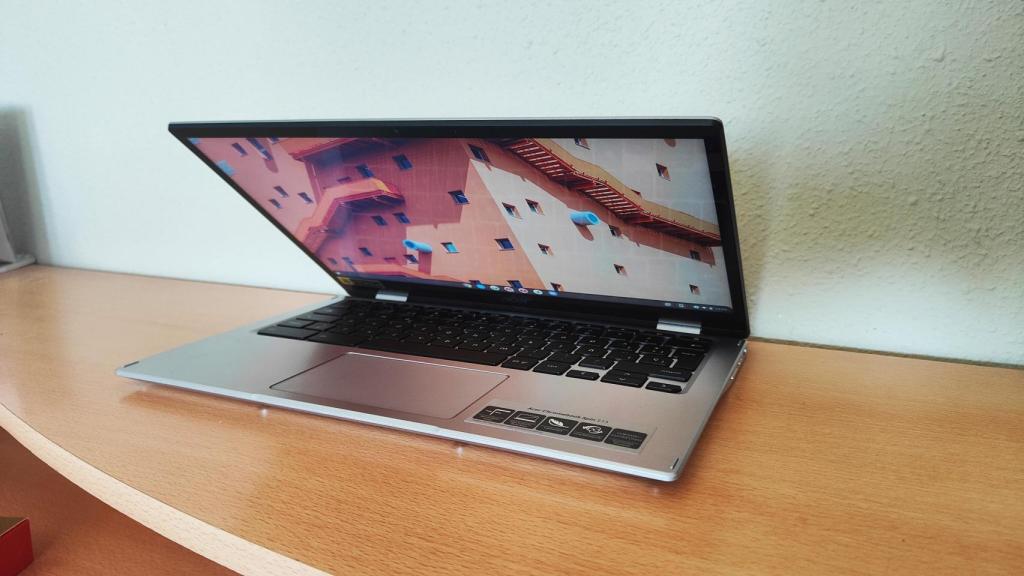 As for the screen, in addition to being tactile, it should be noted that the 13.3 inches in size are complemented by a good FullHD resolution and an IPS LCD panel. The colors and brightness are good considering that this is a computer, but the finish of the panel makes fingerprints too easily marked. Acer doesn't mention the integration of an oleophobic technology, but it would certainly do very well for it.
As for the keyboard, the layout is significantly different from the classic one that we find in a Windows laptop and some of the functions are missed, such as the ability to search a page using the F3. But the Key quality is good and the keystroke is comfortable enough for hours of typing. Special mention to the good performance of the touchpad in whose configuration you have to activate the inversion of the gestures so that it works as in a traditional keyboard.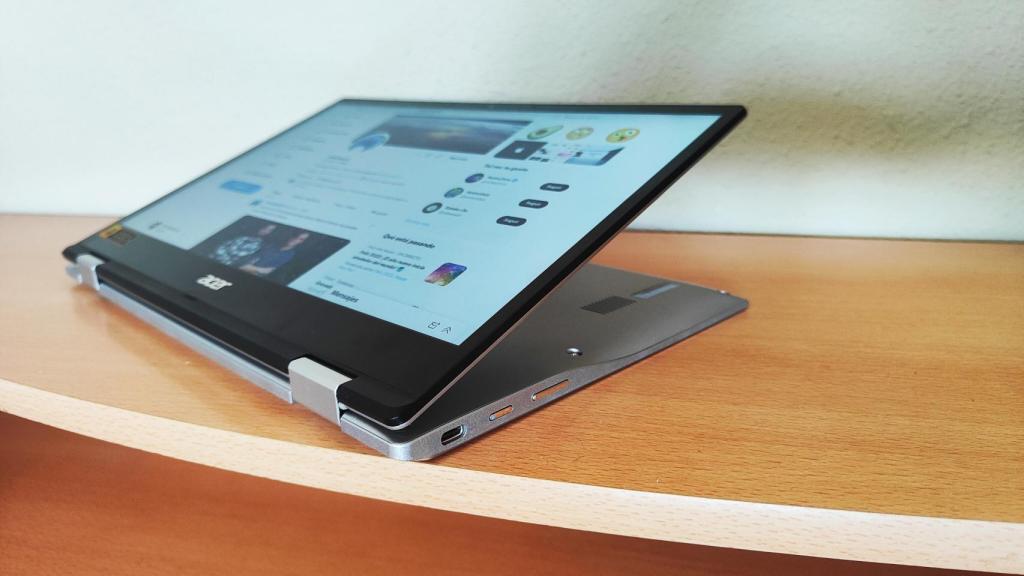 This keyboard, touchpad, metal and hinge packaging it only weighs 1.2 kilograms. It is not the lightest laptop in the world, but its dimensions make it perfect to carry it in your backpack and work anywhere.
Performance, for the right thing
In the performance section, the Acer Chromebook Spin 513 uses a Qualcomm Snapdragon 7c processor, that is, a ARM chip (like the one used in tablets and mobiles) specifically designed to serve on a computer. These types of processors are not very popular among Windows laptops, but they have proven to offer a good balance between performance and autonomy.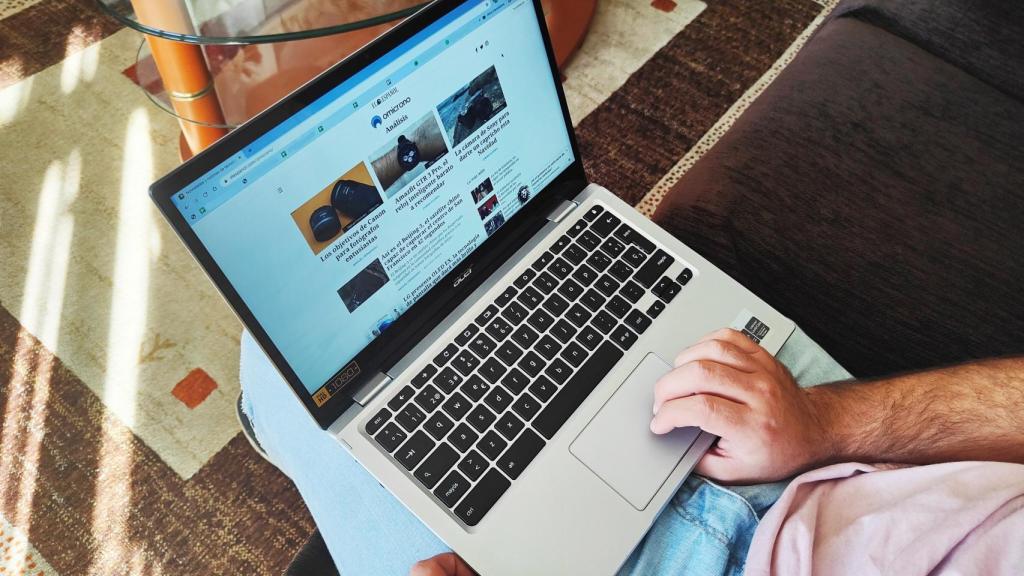 When it comes to performance, the notebook behaves very well for moderate use from someone who wants to use it to surf the internet, write documents or use the vast array of downloadable applications. For a more professional use that requires some power such as handling between many applications at the same time and a considerable number of tabs in Chrome it may fall short.
The user interface, at specific moments where extra performance is needed, gives certain jerks and on a couple of occasions the Chromebook has been totally frozen. All this in the middle of an office automation job that is still somewhat more advanced than an average user could do.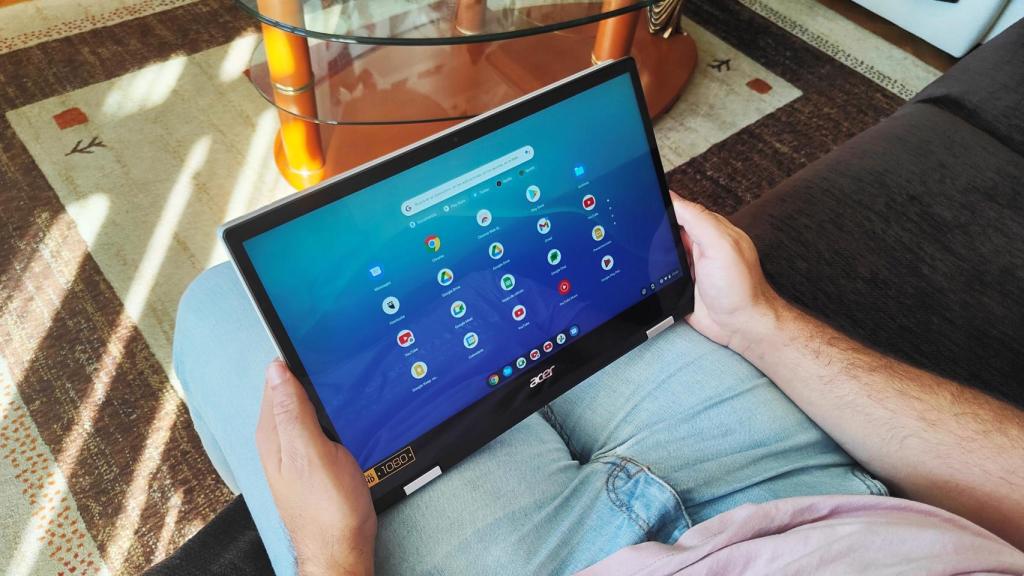 The rest of the specifications are completed with 8 GB of RAM and 64 GB of eMMc technology storage. This last feature can be a problem in the long run due to limited storage space coupled with a data reading and writing technology that has been far surpassed by the SSD. Also, it cannot be expanded by memory card, so be careful about installing many applications or saving files.
How is ChromeOS?
The operating system that goes inside the Spin 513 has some interesting peculiarities. The first one is that you can download applications from the Play Store, turning the computer into a true entertainment center with apps like Netflix, Instagram, Spotify, YouTube or an almost endless list of games. All of them correctly adapted and with the possibility of interacting with them in windows with the cursor or through the touch panel.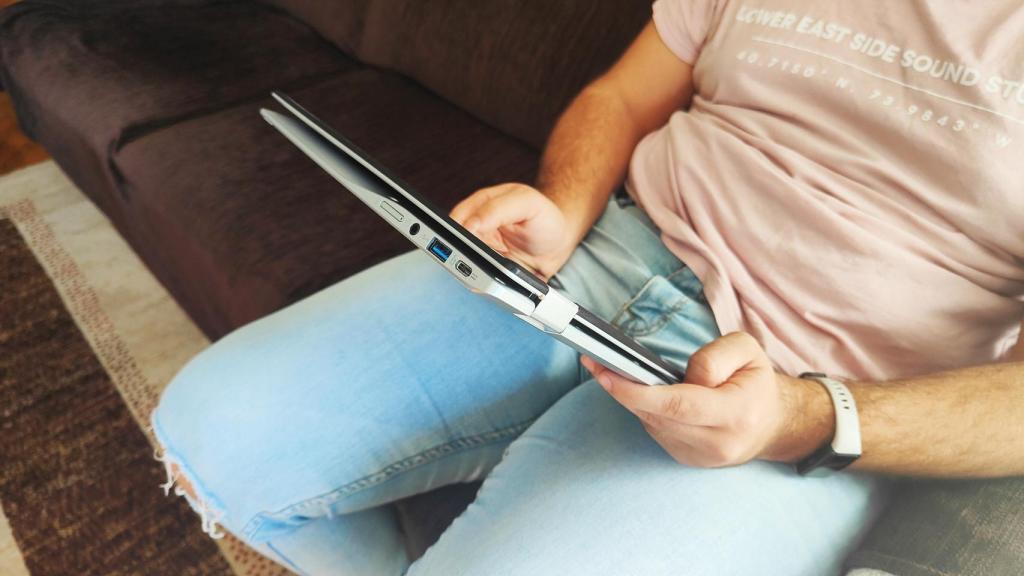 This is one of the big differences compared to Windows, whose application store is very limited and practically none of them are adapted to be used in the touch environment. East Chromebook is a kind of hybrid between Android tablet and laptop to work or study that for a good part of users can work really well.
The desktop in the purest laptop style is joined by an application drawer where you will find all the applications installed on the device and a very complete notification center that can be synchronized with the phone Android mobile.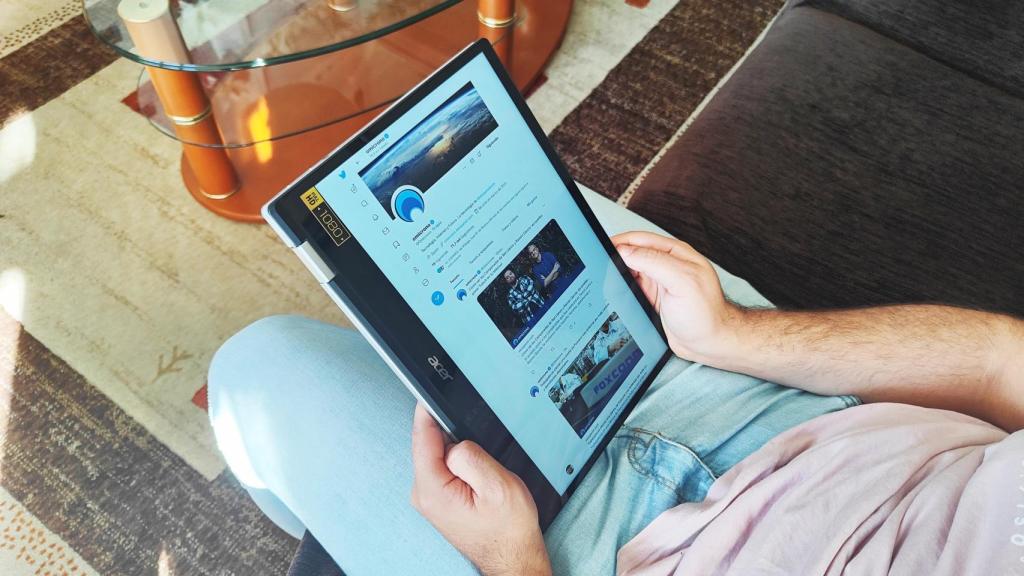 To this integration is added that of the entire Google work application suite. With heavyweights like Gmail, Google Drive, Google Photos and the Chrome browser. The experience is very similar to what the company has achieved with Android tablets and phones, only now adapted to a computer format.
Chromebooks are specially designed to be used under the umbrella of a WiFi or mobile network, although there is always the possibility of downloading the applications -Care with storage- to be able to be used offline or also the multimedia content to enjoy it offline.
Autonomy and connectivity
The Acer Chromebook Spin 513 has a 4,670 mAh battery that, although it may seem scarce, we were pleasantly surprised. The computer can handle a full day of work and several hours of entertainment afterward. In our tests, we have achieved up to 12 hours of autonomy uninterrupted.
The most negative part of this section is a somewhat poor charging system by current standards. The charger is 45W, but it has to go through almost 1 hour to reach 50% of battery capacity and more than 2 hours for 100%.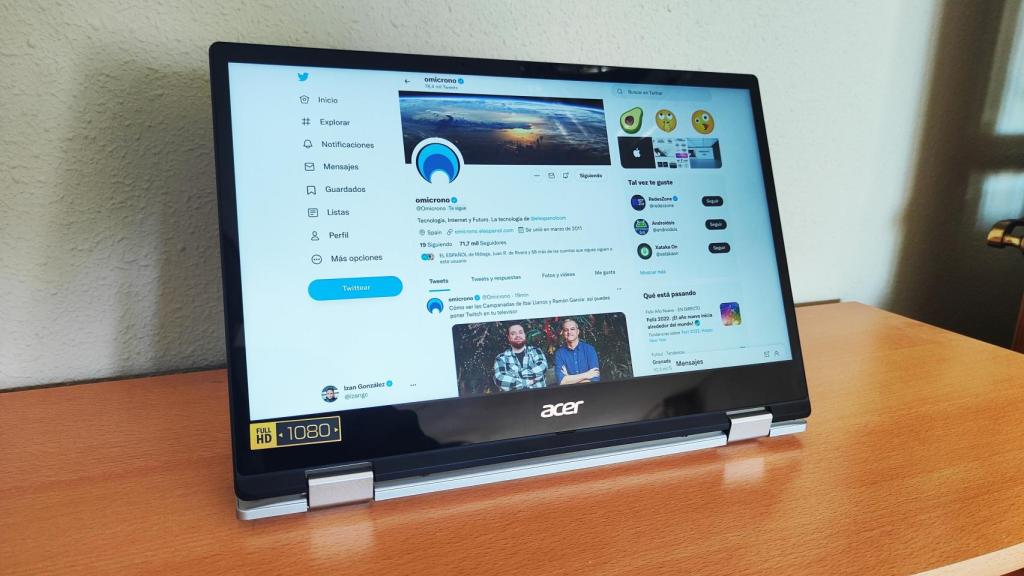 Regarding connectivity, the computer has 3 USB ports (2 of them Type C, one of which is also a charging port), a headphone jack and a SIM card slot. And is that this computer has Internet connectivity through mobile data, a function that for some people can be key and decide the balance for this device.
Which is missing is an HDMI port to be able to use the Chromebook connected to a monitor and a slot to expand the meager internal memory by means of an SD or microSD.
I buy it?
The evolution of the latest versions of Chrome OS provide an operating system with good user experience. Google is working hard to offer a software as lightweight and reliable as possible so it can run on different types of devices reliably. And he has succeeded.
For someone totally profane of the operating system and who has been using Windows for 20 years the learning curve is very slight. Even more so when you have lived with Android.
The most negative points of the Acer Chromebook Spin 513 go through a limited internal memory and perhaps lack of spark when it comes to heavier tasks. The second may have a solution after updates to software that polish the operation, but the first thing is a problem of choice of components.
With regard to usability, also better window management is missed. Perhaps reminiscent of the Windows environment that handles them so well. For example, to enter split screen mode you have to do it from multitasking and not by dragging the windows to the edges so that they adjust themselves. Android multiscreen inheritance.
For an average user who wants a computer that starts up very fast, who is looking for a fine integration with Google services and a device for everything, this Acer Chromebook Spin 513 may be one of the candidates to take into account.