Although Xiaomi has a gigantic catalog internationally, several company products stand out for being tremendously loved by fans. This is the example of the Mi Band activity bracelets, some of the most popular Xiaomi devices. Well, the company has presented in China your new Xiaomi Redmi Band 7.
It has not been limited to launching only that activity bracelet but has also presented the Xiaomi Redmi Buds 4 and Redmi Buds 4 Pro, your new wireless headphones. However, the main protagonist is the Mi Band 7, which now integrates a larger screen with improvements in its blood oxygen control and physical exercise monitoring.
It debuts a larger screen, a 1.62-inch OLED with a resolution of 490×192 pixels, and finally, Xiaomi has chosen to integrate an option to keep the screen always on. The usable screen area has been increased by up to 25%, making it easier to use.
My Band 7
SpO2 measurement has been improved since if the Mi Band detects an oxygen saturation below 90%, it will vibrate to alert the user. In physical activity monitoring, the Mi Band now supports up to 120 different training modes, with four pro sports modes, automatic exercise detection, and even an option to exercise competitively against your friends.
The battery, in this case, is 180 mAh, and in the words of Xiaomi, it should last 14 days, at least without the mode Always OnDisplay. However, this autonomy could change depending on the type of use given to the activity bracelet. This one, by the way, will take up to 2 hours to charge.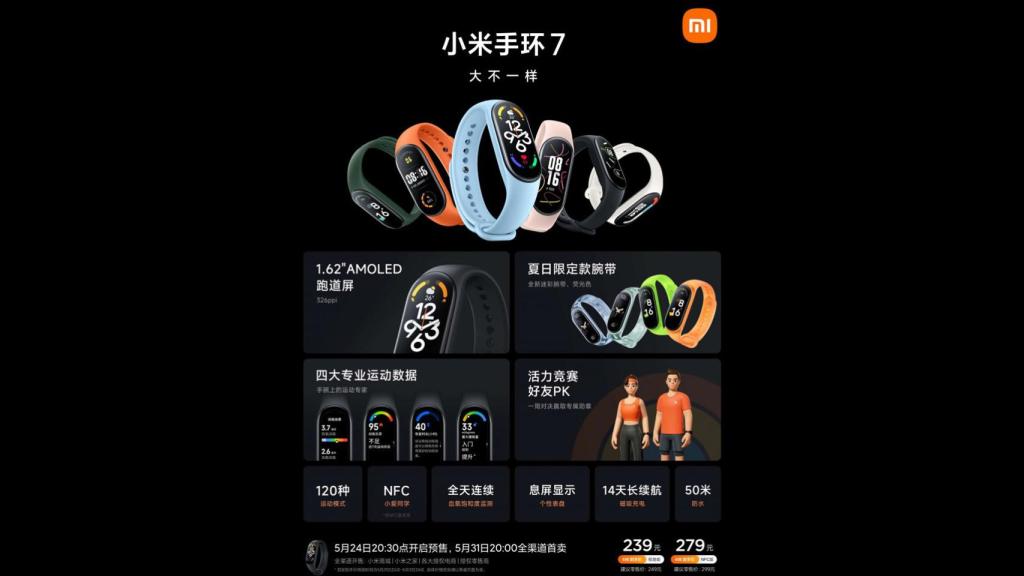 The Xiaomi Band 7 will have a base price of 239 yuan, which is about 33 euros in exchange. An NFC model has also been launched that will logically cost a little more, although Xiaomi has not specified the exact price of this model. It should clarify that this new bracelet may change its worth in the face of its more than likely launch in Spain in the future.
Redmi Buds 4 and 4 Pro
Xiaomi has seen fit to renew both its Mi Band and your Xiaomi Redmi Buds 4. Two models, a higher 'Pro' version and a lower one, have essential differences. For example, the Redmi Buds 4 Pro have a noise cancellation system of up to 43 decibels and integrates an IP54 rating to protect them from splashes and rain.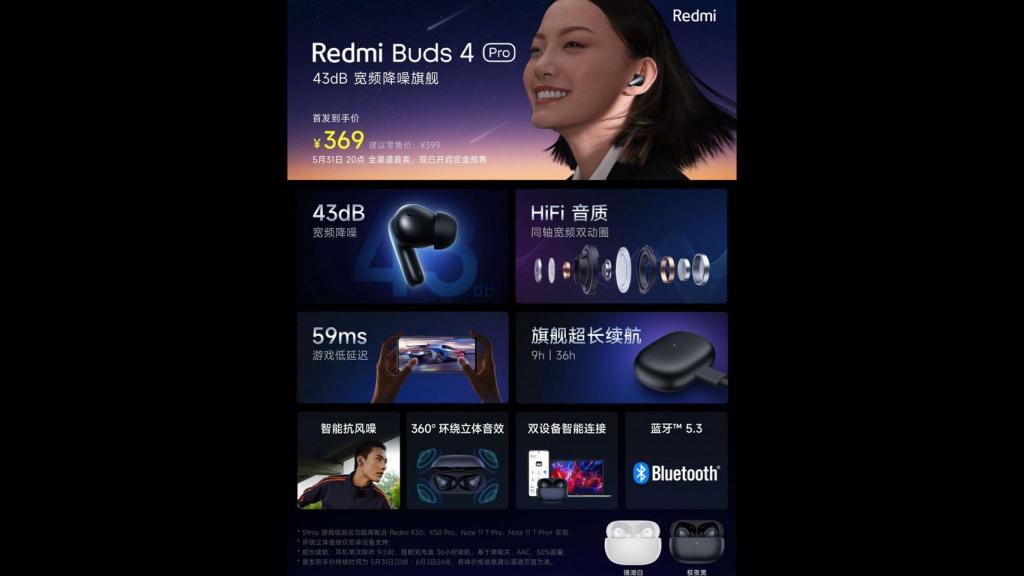 They ride drivers 10 millimeters with a tweeter 6 and use Bluetooth 5.3 to work. Its latency is only 59 milliseconds, and Xiaomi explains that its autonomy without ANC can reach 9 a.m. In the case of using the charging case, this autonomy can be up to 36 additional hours. They can purchase them in black and white for 369 yuan, which at the exchange is about $53, and will be marketed in China from May 31.
The Redmi Buds 4 also has active noise cancellation of 35 decibels, and although the driver of 10 millimeters, connectivity drops to Bluetooth 5.2. They can extend the autonomy to 30 hours with the charging case, and they will go on sale for 199 yuan, which in exchange will be $29. They can purchase them in white and blue.