With 2022, one of the most anticipated days of the year arrives: the Three Kings Day. This is a day when all kinds of gifts are made in Spain, and technology is one of the main protagonists. One of the best options you can access is the Lidl kitchen robot, the Monsieur Cuisine Plus.
This new robot is an improved version that picks up the baton from the previous Monsieur Cuisine, that had to be withdrawn after Vorwerk, the company behind Thermomix, sue the supermarket chain. Now, it's back with better capabilities and at a knockdown price.
Specifically, $270 in your online store. EWs capable of preparing all kinds of dishes, from vegetables to pasta, through fish, soups, sauces and even smoothies. An inexpensive but highly recommended alternative to give as a gift on the 6th.
Monsieur Cuisine Plus by Lidl
It must be clarified that this machine is far from the same that had to be withdrawn from the market. Lidl has taken advantage of the launch of this new version to smooth rough edges of the previous model and above all to offer new advantages, such as 10 speed with a turbo mode thanks to a dedicated physical button. All the buttons on this Monsieur Cuisine Plus are physical
The main container is made of stainless steel and has a capacity of 2.2 liters, although the rest of the body of the device is made of plastic. You can emulsify, mix, grind, cook, chop, whisk, knead and even fry. Allows cooking at temperatures between 37 and 130 degrees, and has a timer of maximum hour and a half. The power of this Lidl kitchen robot is 1,000W in cooking and 800W in blender. Its turning speed is between 120 and 5,200 revolutions per minute.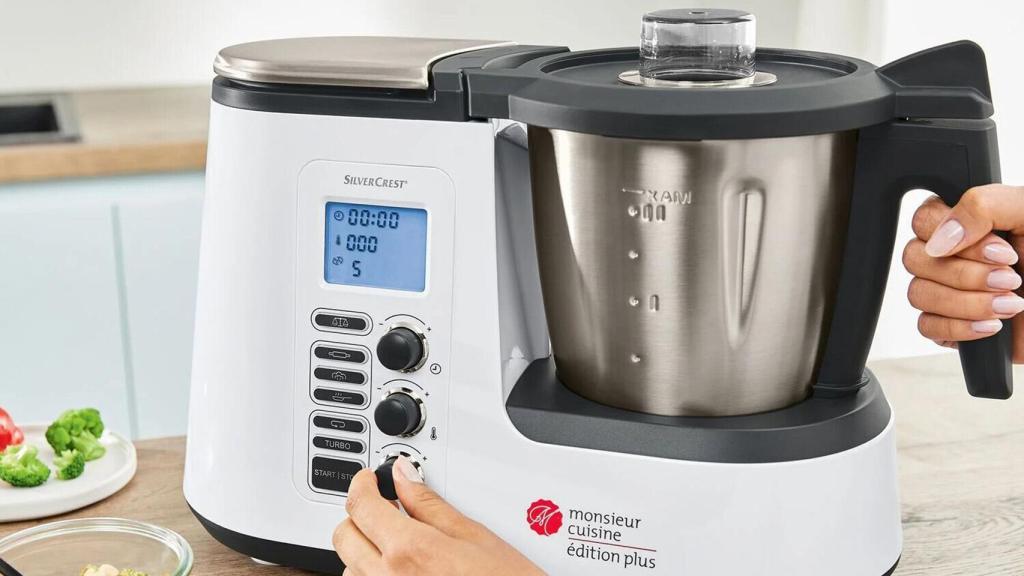 Along with this model, it is added a cookbook with 200 recipes and the possibility of using an application to smartphones. Of course, if you have an old Monsieur Cuisine, you will have to migrate to a new application, according to the OCU. For the rest, the previous models will continue to function normally.
Price and availability
At first, this robot was only available for physical purchase; I mean, you had to go to a Lidl store to buy the robot. However, it can now be purchased via on-line for $230-$270 euros in a single white color.