Although Xiaomi has accustomed us to reserving your most exciting devices to China every so often, the company brings Spain a good assortment of instruments. This May has announced the arrival in Spain of many products such as intelligent air filters, light bulbs, and even electronic toothbrushes. But one of the most interesting is the Xiaomi Smart Speaker IR Control, a brilliant speaker with infrared control.
This is an intelligent speaker powered by Google Assistant whose main attraction is the control of household appliances via infrared by voice. In addition, it mounts an LED screen with adaptive brightness that shows the time at all times at the top. It uses WiFi 5 and uses Bluetooth 5.0, so it will also work as a Bluetooth speaker.
Of course, the incredible beauty of this speaker is Google Assistant, which allows you, among many other things, to ask the time, organize tasks, and even send music thanks to its Chromecast capacity. It also has 360-degree stereo playback, thanks to its 1.5-inch full-range speaker. In addition, it uses two microphones to activate the assistant even in remote parts of the house, and it has four touch buttons to control multimedia, volume, and mute the speaker.
Smart speaker
This speaker includes an infrared transmitter module, which allows you to use your voice to control compatible devices through this connectivity when you are in the room. It's a hub infrared, a control center to avoid using remote controls. Of course, not all Xiaomi appliances support this feature, but it will work with some of the most popular ones, such as fans, projectors, or air conditioners.
Thanks to Google Assistant, you can set alarms with the songs you want, and thanks to its clock function, it will act as an alarm clock for the bedside table. This speaker can also be used as an intelligent hub with hands-free control for other Xiaomi devices through the Mi Home app for smartphones. To create a stereo system, you only need two devices, so combining a pair may be good if the house is enormous and several of these speakers are required.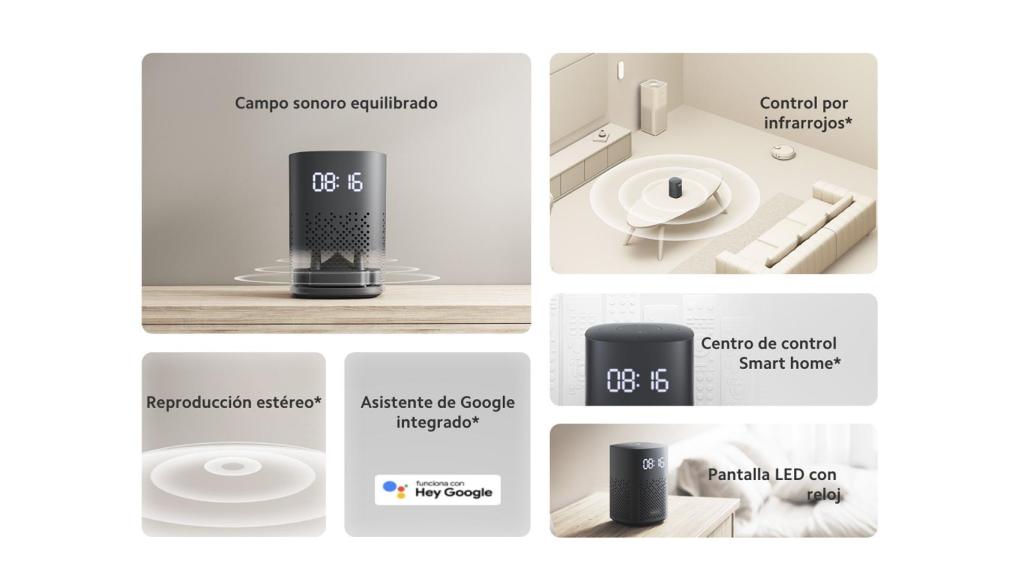 The Xiaomi Smart Speaker IR Control allows you to connect with several smart speakers to play content synchronously throughout the house, including calls via Google Duo. Something similar to what Apple's HomePod can do, although in this case, synchronization can only be guaranteed when listening to music. In the case of playing other types of sound, for example, from videos, synchronization may not occur.